Euromillions: a couple won 184 million pounds in the United Kingdom
A Gloucestershire couple have been announced as the winners of the more than 184 million pounds prize on Tuesday 10 May.
Published
20/05/2022 (13:01)
A Gloucestershire couple, Jess and Joe Thwaithe, are the lucky winners of a massive prize of more than 184 million pounds (215 million euros) on Tuesday 10 May. A record number of millions in the UK, which turns their lives upside down.

Jess Thawaite, 44, a hairdresser, runs her own hairdressing salon with her sister, and Joe, 49, a communications sales engineer, have been married for 11 years and have two school-age children. The couple won the prize completely by chance, the winning combination was obtained automatically by the machine validation system.

The couple decided to go on camera on 19 May after 10 days of anonymity. In addition, the two Britons have decided to collect their million-dollar prize in person. Jess and Joe say they want to celebrate their new life openly, without hiding from family and friends, as other winners often do. Although they are still not sure what they are going to invest so much money in, they have said that their children have always talked about going to Hawaii, but they have no idea why, but now it is a dream they can make come true.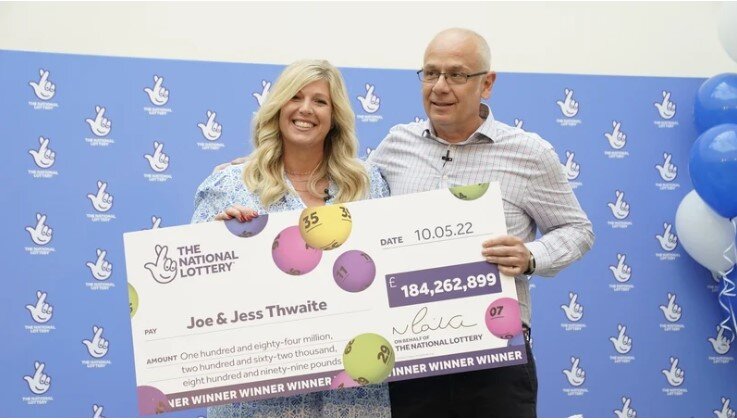 It is not the first time that a Gloucestershire couple have won a millionaire's prize. In 2010, Justine Laycock and Nigel Page won more than 66 million euros.
The biggest winners in the history of the draw
They have also made history by becoming the biggest British winners in the history of the Euromillions draw. A total of 184,262,899 pounds sterling is the equivalent of the multi-million pound prize.

The British lottery institution has asked people who bet on draws to keep their tickets safe and check them once the result has been announced.

The biggest winners so far in the UK were Frances Connolly and her husband Patrick, residents of Northern Ireland, who won a prize of 136 million euros in 2019. Frances Connolly says she has donated half of the prize she won, telling the BBC that helping others is addictive. "I'm addicted to it now," she said.

The former social worker and teacher has set up two charities: one named after her late mother Kathleen Graham in her native Northern Ireland, and the PFC Trust, which supports local young carers, the elderly and refugees in her home town. She estimates she has donated almost half of the prize money, and jokes that she would be worried in case her husband Patrick found out.

Hands up who hasn't dreamt of winning the EuroMillions at some point. But what if it comes true? Let's not forget that just as it has happened to these families, dreams do come true. And you, what would you do? Would you help friends and family? Would you create a charitable foundation?